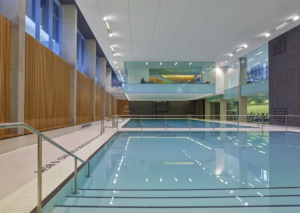 Dear Neighbours:
Please accept this invitation to tour Branksome Hall's new Athletics and Wellness Centre, at 6 Elm Avenue, during Doors Open Toronto, on Saturday, May 23 or Sunday, May 24, 2015, anytime between 10:00 a.m. and 5:00 p.m. No RSVP is required; please feel free to visit the school at your convenience.
Doors Open is an exciting community event that showcases distinctive buildings that are not normally open to the public. The event is popular with all ages and attracts people who are interested in unique architecture and Toronto's history.
This year's theme is Sports, Recreation & Leisure. As such, Branksome Hall has been invited by the city to feature our Athletics and Wellness Centre, which includes two saltwater swimming pools, a gymnasium, dance and yoga studios, a fitness centre, and a dining hall. During Doors Open, we also plan to point out some of the interesting features about our history and the many heritage buildings on our campus.
For details about Doors Open, visit the website.
We hope that you are able to join us!